GEOTECHNICAL TELEVIEWER INTERPRETATION
GEOTECHNICAL TELEVIEWER INTERPRETATION (GTI)
D&S have developed an innovative and unique processing methodology – GTI that accurately evaluates the full suite of geotechnical properties and structural characteristics of a rock mass using downhole televiewer surveys. Pre-existing and open drillholes can be surveyed using the televiewer reducing the amount of diamond drilling required whilst sufficient, accurate data is collected for geotechnical studies. Significant costs savings can be realized without restrictions on data quality and quantity.
GTI processing methodology has enabled the identification and classification of structure type, surface roughness, infill nature, geotechnical domain, rock strength, rock quality designation (RQD) from televiewer data. Some validated and calibrated geotechnical logging of diamond drill core for the identified lithological units in the area of interest is required to generate a reliable geotechnical dataset from televiewer surveys.
GTI has application in any diamond or percussion drillholes including RC and RAB drillholes.
GTI has been specifically developed to optimise geotechnical drilling programs, hence reducing the cost and time required for data acquisition whilst improving the quality and confidence of structural data and mechanical rock mass property data.
Read Article
DIRECT COMPARISON IMAGES BETWEEN DIAMOND AND RC DRILLHOLE
Diamond Drillhole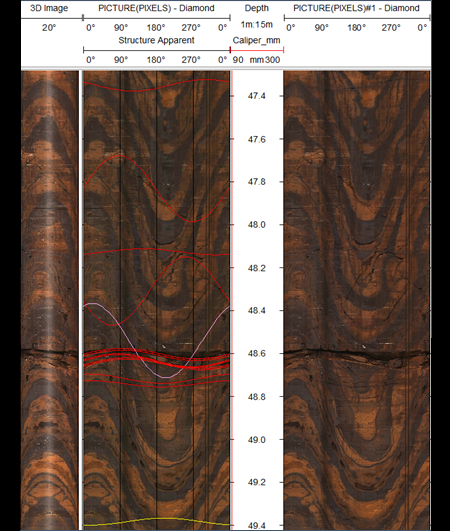 Diamond Drill Core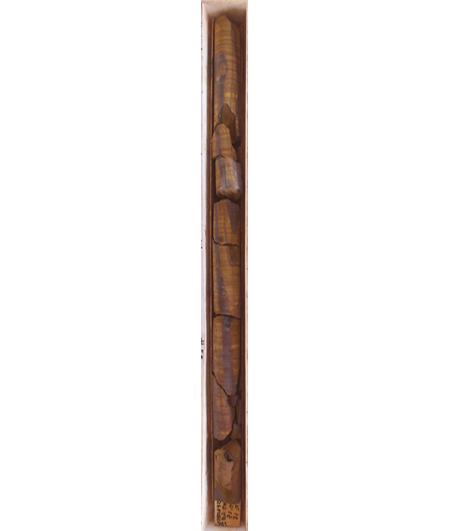 Diamond Drillhole – RC Reamed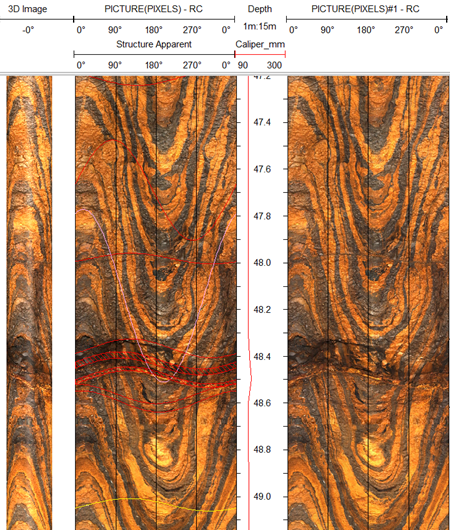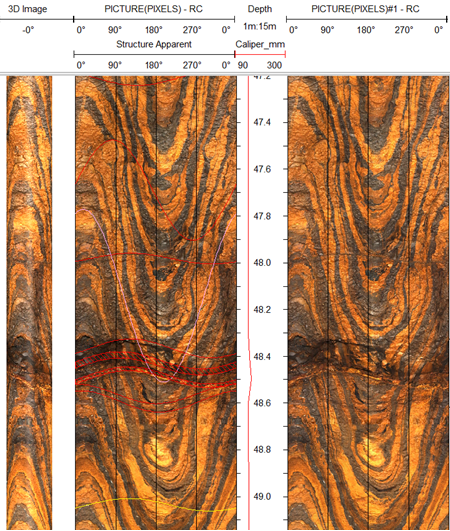 Twin Televiewer Images from Diamond Drillhole Initially and Post Reamed Using RC Drilling.
01
GEOTECHNICAL TELEVIEWER INTERPRETATION (GTI) – FULL SUITE ROCK MASS AND STRUCTURAL INTERPRETATION
Rock type

Geotechnical domain

Weathering

Rock Quality Designation (RQD)

Number of discontinuities

Type of discontinuities

Number of discontinuity sets

Roughness of discontinuities

Fill of discontinuities and thickness

Dip and Dip Direction of Discontinuities

Back calculated Alpha and Beta angles for Terzaghi Weighting DIPs plot

Strength index of the rock

Failure mechanism based on defect type and orientation in conjunction with UCS and Triaxial tests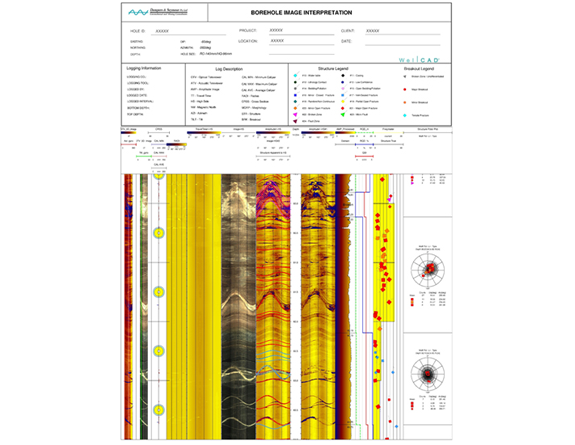 Major Open Fracture with Rough Irregular and Soft Infill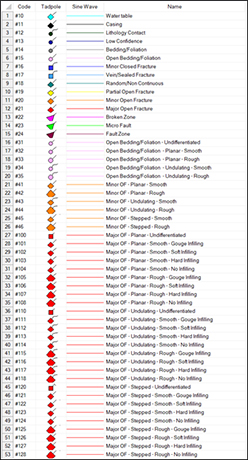 02
GEOLOGICAL INTERPRETATION
Accurate geological structure orientation can be useful in 3D modelling of orebody, lithology and structure.
Geological structure type includes:
Rock type
Geological contact
Healed Joint
Open Joint
Vein including thickness
Bedding and Foliation
Micro Fault and Fault zone
Image: Veins, Different Rock Type and Textures Identified from Televiewer Images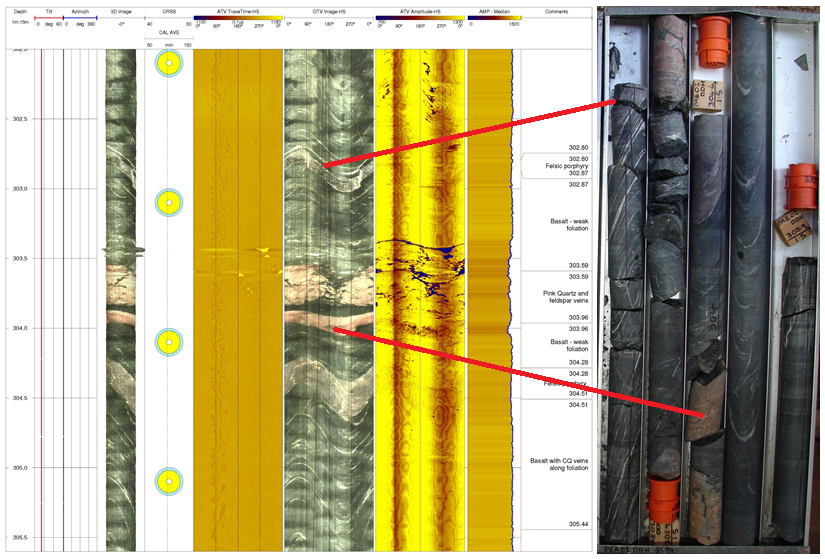 03
STRESS ORIENTATION
Borehole Breakout can be identified from televiewer data, obviously from acoustic televiewer Travel Time and Amplitude signal strength.
Borehole Breakout appears in drillholes normally as a pair opposite and perpendicular to the maximum stress orientation. Vast reliable data can be acquired plus far more efficiency, and economy to identify stress orientation from televiewer data using pre-existing open drillhole in comparison to drill new diamond drillholes for acoustic emission (AE) tests.
Interpretation of borehole breakout includes:
Breakout size

Breakout orientation

Rose plot with maximum stress orientation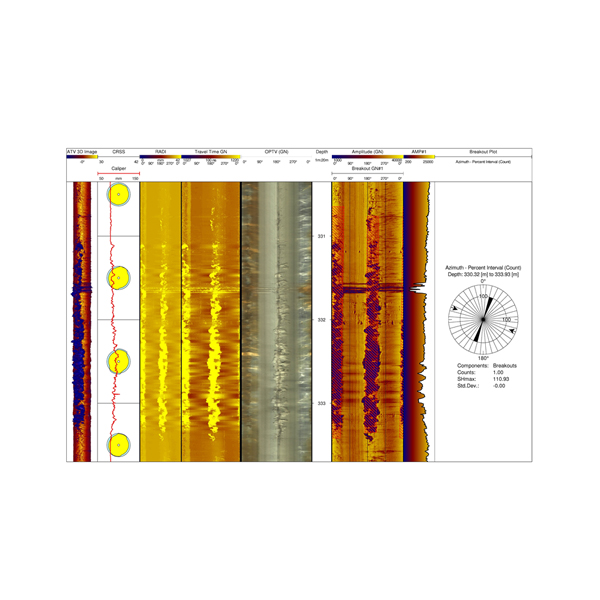 Unrolled Televiewer Images Showing Interpreted Borehole Breakout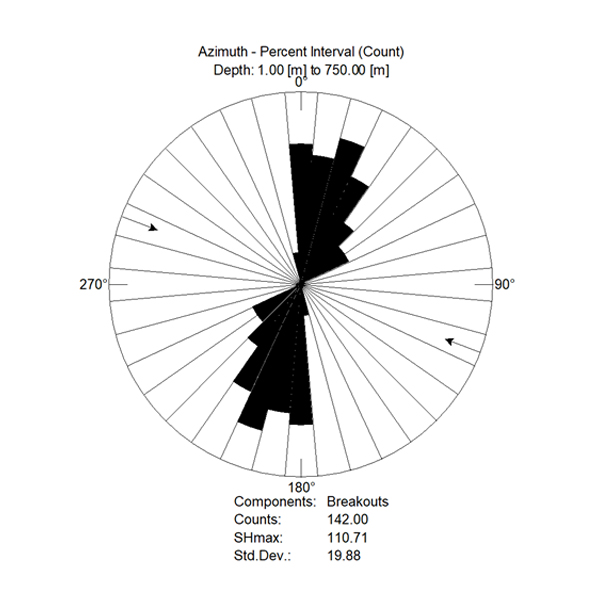 ROSE PLOT - Breakout and Maximum Stress Orientations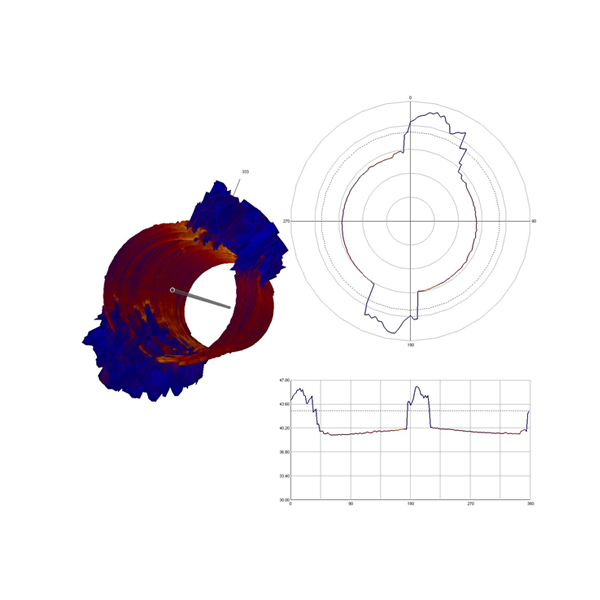 BOREHOLE BREAKOUT - 3D View and Cross-section of Borehole Ovularity